Your Personal Style Journey

Your Story
After working closely with our clients whether it's is a Colour and Style consult, Wardrobe Co-ordination session or a Style Shopping tour - our clients feel like family. We witness their journey as we help build the foundations for their transformation. For a short while we share their journey. Their journey brings great joy, meaning and value to our lives while changing theirs dramatically. Our clients often are going through significant change in their lives. A new look and style gives a degree of confidence to help manage that change.
Everyone's Personal Style Journey is an inspirational story which helps guide, inspire and support others. Our clients would love to share their story with you. Be guided, Be inspired...
My Story - Marina Hirst, Intimo Consultant.
Thank you so much for a wonderful day on Sunday. Quite frankly I did not know what to expect which was great and now I can understand and endorse the benefit of a personal stylist and image consultant!
My motivation to attend a Jump the Q Styling Workshop was twofold. Initially I thought I would be able to educate other ladies on wearing the correct fitting lingerie (which is my Intimo Business) as well as showing the versatility of our travel/leisure wardrobe. My second aim was to learn how to create a more casual look for myself as I tend to dress up most days and find it difficult to create the "school run" look.
However what I learnt was so much more!
My Experience
I learnt the difference between an Image Consultant and a Stylist and the functions that each perform.
I learnt the importance of de-cluttering and sorting out your current wardrobe, the function of core garments and how you can change looks, simply by accessorising or adding one or two fashion pieces.
I discovered what my style was and how a Stylist can save you time and money and can contribute to your existing wardrobe. I learnt about which designers or retail outlets suit what personality/body type and where to shop and how to create a casual look.
I learnt about fabric, the importance of quality and how to "mix and match" with standard pieces.
I discovered that shopping could be fun and not a chore if you do it with a STYLIST!
Most importantly I was encouraged to look "beyond my comfort zone" and to try something different.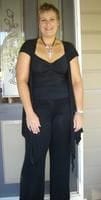 Hence the "before and after photo's" attached.
I never believed that my size 14 should or could wear a LBD (little black dress) which Chanel has always encouraged every woman to own. So when we were on our shopping trip and popped into "Saba" , Rachel pointed to this little number and asked me to try it on, for fun! I laughed, told her it "wasn't me" and could not wear such a sexy dress. She insisted I entertain her, and being the whacky woman that I am, I decided to do so!
Wow! I just loved it and felt so beautiful and sexy! I could not believe how the cut/style and fabric luxuriated like a second skin onto my body and made me feel wonderful! I very much believe in empowering woman to feel confident from within and without (through Intimo) and yet here I was experiencing the same glorious feeling of confidence!
Hence, I now own a gorgeous Little Black Dress and on my first occasion of wearing it in public I got compliments galore from with some gorgeous Italian men who appreciated my appearance! And I felt great!!
Thank you Rachel, for allowing me to discover another side to the woman I thought I was...

Marina Hirst
Intimo Consultant
Mobile: 0403978975
Marina's Charity of Choice
McGrath Foundation or Cancer Council with specific focus on "Girls Night In". In my business I come across many ladies who have experienced or are in remission with breast cancer. It is a cause for which I strongly advocate!
Marina's Business Tip/Life
Live and work with integrity – it reflects the person you are and the business you're in.
Share – your stories, your passion for your business and who you are...others will soon follow.

Reply from Rachel Quilty, Jump the Q:
Hi Marina,
Love it! You look gorgeous. Great photos. What an inspiring woman you are. I love your enthusiasm and passion. I am glad you found the Style workshop valuable and I really appreciate your thoughtful comments.
Thanks again for the Intimo Styling session. It was lovely to spend some time with you and try on some of the fabulous Intimo range. Beautiful modal fabric. Sue White has created a wonderful product range. My new lounge wear will be fantastic to travel in next month while I am in the UK and the USA.
Next time ....let's have a glass of wine somewhere close to catch up on the girl stuff.
Look after yourself.
Rachel Quilty
Fellow Detox Diva & Professional Image Consultant.
Important note to Jump the Q friends - If you don't already have some Intimo lounge wear pants and wraps contact Marina.
Read what others have experienced:
An Inspiring Weight Loss Story - Teresa
On the Campaign Trail - Kerre
International Traveller Rewarded - Barbara
Because your Personal Style Journey is important to us we encourage you to take advantage of the great
free articles
,
tips and resources
available to the friends and family of Jump the Q.
Make the decision to change your life today. It's never to late to move forward in your life. What have you got to lose. Nothing except your old image!
See below calendar - Set a deadline; select a date - to begin your Personal Style Journey.
Our clients are invited to share their story. Your story could change a life - just by being you. Our clients are truly inspiring and their potential amazing. Inspire someone today!
Tell us your story
and send us some before and after photos. After all a picture tells a thousand words!
Calendar
| | | | | | | |
| --- | --- | --- | --- | --- | --- | --- |
| Mon | Tue | Wed | Thu | Fri | Sat | Sun |
| 1 | 2 | 3 | 4 | 5 | 6 | 7 |
| 8 | 9 | 10 | 11 | 12 | 13 | 14 |
| 15 | 16 | 17 | 18 | 19 | 20 | 21 |
| 22 | 23 | 24 | 25 | 26 | 27 | 28 |
| 29 | 30 | 31 | | | | |