Give your business the winning edge, with Jump the Q's exclusive services for Business...
What brand image is your business portraying?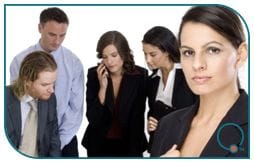 An effective business image and interpersonal communication skills are essential in today's business environment. The combination of cultures, values and belief systems, along with Australian Business' level playing field, means that even the smallest businesses can have the opportunity to work some of the biggest.
This dichotomy of scale means that a credible and consistent business image is essential to ensuring the long-term business success and growth of all businesses.
What's your business' brand saying about you?
Psychological studies confirm that within 30 seconds, your personal and business images have made a lasting impression. In this short amount of time, the customer has decided whether they like you, whether they trust you, and whether they will do business with you.
You and your staff have the ability to manage the impression people get of you and your business, ensuring that it's always a positive one.
Always remember: you only get one opportunity to make a good first impression.
By combining Industrial Relations & Business experience with Image Consulting, we know what works and what doesn't when it comes to creating and maintaining a credible business image.
We pride ourselves in not only being able to identify problems and potential risk, but we also provide solutions that are realistic and practical for each situation.
So how could a professional business brand image make over help you?
Align your business image to match your markets' expectations,
Brand your business with a powerful and consistent business image,
Creating an attractive image that impacts clients and customers,
Develop business image policies that reflect your business goals and future growth,
Help you to select business attire/uniforms that reflects your business success,
Build a presence that positions with integrity, authority and credibility.
In practical terms this means that we will :
Assess your client expectations and your current business image,

Determine, develop and implement an appropriate dress code, guidelines and policies,

Provide training on dress codes and grooming via in-house seminars and presentations,

Provide individual support to staff, when required.
Your business brand image
Better brand image, better bottom line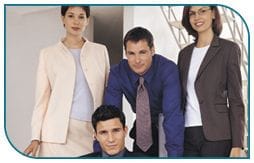 Your business image affects your market standing, your ability to attract and keep clients and penetrate markets, and the price you can put on your products and services. It also has a powerful social influence. Improving your image is an investment in building your business. It pays to design your image to sell.
Did you know … 70% of a market will pay a 20% premium on brands and 40% will pay a 30% premium? Consider your business brand and position yourself to reap the rewards.
What we offer you:
Over to you:
Are you confident your image is consistent with your business message?
Are you concerned about your staff presentation and dress?
What is your clients' perception of your business?
Are you presenting a confident professional image?
The strategies for success are simple and they start with the way you and your staff dress. The key is to reflect your business values. Dressing as an expert in your field sends a signal of your business acumen. Think of yourself and your staff as ambassadors of your business. Everything you say and do, your appearance and manner will have a positive or negative impact on the reputation of your business.

You are the message. Changing your image can change your bottom line.
Start today!
Improving your image is an investment in your business. Click here or Call 1300 655 755 today for a professional image assessment or allow us to re-engineer your business image to better brand you and your business.

Call 1300 655 755 now or click here for a free information kit.
Professional Business Image Services are suitable for all businesses, in the past our clients have included:
Professional Consulting Firms,
Employment Services & Recruiting Companies,
Retail Stores,
Trade and Manufacturing Businesses,
Real Estate Agents,
Legal Practices,
Consultants,
Not for Profits.
Please note: our Professional Business Image Consultancy Services can be tailored to meet your needs. Please contact us for a customised proposal.
Sponsorship Opportunities
We would like to invite your company to become involved with Jump the Q, Image and Impressions by Design as a sponsor. Your involvement is significant opportunity to show your commitment to and support the success of our clients. Sponsorship offers the advantage of introducing your company's products and services directly and dramatically improving Your Business Image. For more information on Sponsorship Opportunities click here.