Jump the Q and get your monthly tips and tactics delivered direct to your Inbox with our
FREE Q-Style Tips eNewsletter...
Our monthly Q-Style Tips will keep you 'in the know' with vital strategies and techniques to build your personal brand; join now for FREE by completing the form below.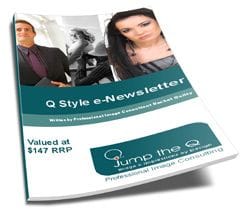 What our clients said:
The Jump the Q website is excellent and the information so interesting and very, very useful. It is almost like going shopping with a girlfriend……it is a place you can browse around and always find some useful information no matter how many times you visit. I love getting your monthly "Q Style" tips……. it is just like getting a parcel delivered to the door (very exciting).
Nikki, Brisbane
Valued at over $147 RRP.
Brand Yourself! For Success
Personal branding is no longer optional. In your marketplace, your success may depend on how well you are branded. Stay in the game by becoming a powerful and persuasive personal brand!

The biggest mistake that even the most savvy business owners, consultants and professionals make is not being intentional with their personal brand and positioning their brand for success.
If you have a successful brand and reputation you will be:-
• provided more and greater opportunities
• afforded more authority and respect
• you build the momentum for success
When you are well branded – business success comes to you. Never believe that your output, resume, work performance is of more value than your personal brand.
With our Jump the Q eNewsletter you'll learn:
What is Personal Branding? And why is it important? Success Strategies to Help Build Your Personal Brand
How to Design your Personal Brand to Dominate your Market. We will discuss the importance of positioning your personal brand as the authority in your market place.
So get ready to stake your claim as 'the' authority in your industry and position your brand as the "only choice" brand as we address the principles of positioning yourself as the AUTHORITY in your industry .
Brand Yourself the AUTHORITY in your field when you join us. Register today!Brand Yourself and join our Jump the Q's Q eNewsletter and you too can be a successful brand.
By creating a game plan that builds visibility, credibility and authority you tell your employer, colleagues, prospects, customers you are the "only choice" brand. You must tell your target market why they need to choose you over your competitor. And position yourself so there is no alternative.
Discover:
The Ten Vital Brand Yourself Action Steps you need to take to Brand Yourself for long term survival and success.
The Three Most Important Strategies to Design your Personal Brand for Success.
Discover the Five Deadly Mistakes Made in Personal Branding
Brand Yourself for Success when you join us for this informative and fun eNewsletter: Register today!
The biggest mistake that even the most savvy business owners, consultants and professionals make is not being intentional with their personal brand and positioning their brand for success.
Recognising these deadly mistakes and adopting these basic survival strategies which will help you remain buoyant in turbulent times – so Brand Yourself for Survival and join us for this webinar.
This Personal Branding eNewsletter is especially for you if:
If you have potential and have something important to share with the world.
Make an impact with your unique brand! And accelerate your personal success.
Rachel Quilty, your Personal Brand Strategist will deliver information packed eNewsletter to provide tips and techniques to help you develop your own signature brand to better brand you and your business!
So you can...
Stay in the Game and Brand Yourself for Success.
Plus, as a special offer, when you register to receive our Q-Style tips eNewsletter, you'll also receive the following selection of eBooks. Please nominate which titles you would like.
We respect your privacy:
We do not sell or rent our electronic mailing list to anyone at anytime for any reason. We hate spam as much as you do. You may remove yourself from the list anytime you choose with the unsubscribe link at the bottom of every ezine.