Make your Mark
101 Image Essentials for Professionals

Get your FREE eBook by subscribing below...
If you're looking to get ahead in the tough world of professionals, then you need the Make your Mark eBook. Included in this 17 page eBook is 101 tips, strategies and tactics for increasing your profile and standing out amongst the crowd.
Start working smarter, not harder. Just by altering your image/attire and professional conduct you may be able to rocket yourself up the corporate ladder or to leader of your industry. Containing section such as Impression Management, Dressing to Win, Body Language, Assertiveness and much, much more, this eBook is sure to become a regularly referred to reference.
But don't just take our word for it... Here's tip numbers 32 & 33 of the eBook for you to read now...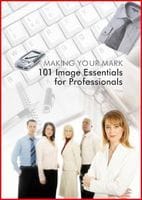 32. Impact Killers
Commencing anything with an apology

A weak handshake

Being late

Turning up unprepared

Closed body language

Ignoring mistakes

Forgetting names

Presenting out-of-date information

Sitting as far as possible from the leader
33. Savvy Introductions
A proper introduction is a vital part of good conversation. The etiquette of introductions is easy if you remember that you introduce (say the name of) the person with the greatest seniority or power first. For example, to introduce your boss to a new (lower ranked) employee - say, 'Mr Peters (boss) I'd like to introduce Catherine Sims who is our new receptionist.'
Followed by 'Catherine, this is Simon Peters the head of our agency.' In the case of power it may be that you are wishing to close a big sale of computers for your company and you have taken your boss out to the company to close the deal. In this case you would introduce the customer to your boss - "Mr Flynn (customer), I'd like to introduce you to Mr Simon Peters, who is the head of Synergy Computers." Followed by "Simon, this is Derrick Flynn, who heads Ace Corporations
purchasing department and is in charge of deciding which computers will best fill Ace's requirements."
Subscribe now and receive a copy of 50 Image Esssentials for Women for FREE...
Please note: We also invite you to subscribe to receive our other FREE eBooks and our regular Q-Style tips. To do this, please tick the boxes of the items you'd like to receive.
We respect your privacy:
We do not sell or rent our electronic mailing list to anyone at anytime for any reason. We hate spam as much as you do. You may remove yourself from the list anytime you choose with the unsubscribe link at the bottom of every ezine/eBook.