Learn How to Dress Your Body Shape
and
Develop Your Signature Style today!
This program is so good it has fashionistas worldwide buzzing!
Discover the joy and confidence that comes with knowing you look great!
Don't waste any more money on unflattering or uninspiring clothes that just sit unworn in your wardrobe. If you are unsure about exactly what styles best flatter your body shape, how to coordinate your clothes, or how to shop with complete confidence, then this program is for you. Each 'My Personal Style Solutions' program is created for specifically for you.
Looking fabulous - and knowing that you do - will literally change your world.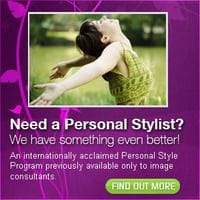 A 'My Personal Style Solutions' program will transform your wardrobe, self-confidence and life forever. You'll look and feel fantastic, and your confidence and energy levels will soar. You'll find yourself thinking far more positively than usual, and you'll act in a much more upbeat manner too. As a result of all of this, the world will reward you with all manner of incredible opportunities, both socially and in business. With your newfound style just around the corner, who knows what could be coming your way?
With a 'My Personal Style Solutions' program you'll be shown exactly what suits your body shape, age and lifestyle. It will open up hundreds of exciting new style possibilities for you, with every program having over 660 full colour fashion photos that instantly bring your style recommendations to life and will have you shopping with the skill of a fashion stylist in no time.

Create an Inspiring Wardrobe that's a dream to wear ...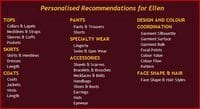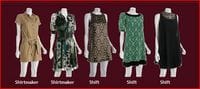 A personalised 'My Personal Style Solutions' Portfolio costs only $79. Generally a one -on-one Style Consultation with a Professional Image Consultant is over $295. You save over $200 when you purchase the ePortfolio directly to your desktop. The information report you recieve is the same you would receive in a Professional Consultation, without the Consultant walking your through the information.
Please note this is a sophisticated program and may take a moment or two to download. It's worth the wait.
See for yourself how detailed and easy to use our Style Solutions program is.
A personalised 'My Personal Style Solutions' Portfolio costs only $79
Through our alliance with BlueFly.com we have created a personal style program that answers your every style question. This innovative and accurate program will teach you about every item you place on your body; from necklines to hemlines, skirts to dresses, pants to shorts, swimwear to lingerie, accessories and much more. It will even teach you how to coordinate your clothes and how to skillfully work with pattern and colour. In a short time your wardrobe will go from a place of Frustration to Inspiration!Shop online immediately after downloading your Personal Style Solutions Portfolio.
And all this for less than an 'average' haircut! Just think, in only a few minutes from now you could be reading your very own, custom made 'My Personal Style Solutions' portfolio.
The money, time and frustration this program will save you, will be evident the first time you go shopping. You'll be able to look at a garment and 'know immediately' if you should bother taking it into the change room. You'll gain a level of dressing confidence that you've never experienced before and people with notice.
When you dress well you feel more confident and people react to you in a positive manner.
What our Clients have Said:

I got my eportfolio a couple of hours ago - frankly, it's brilliant! I'm so pleased.
Thanks
Wendy
Gold Coast, Australia
Hi Rachel,
Today I purchased and downloaded my personalised ePortfolio and am very happy with it. I really enjoy having it here - I can make lists of what features I need to look for/avoid in the particular items of clothing I plan to go shopping for - definitely helps avoid impulse buying as I need to then come home and be sure it suits me!
Thanks
Theresa

Somewhere I lost my style smarts as I matured. I wanted to dress well, but my body had changed and I had no idea what to buy. Shopping drained me and I considered it a chore. I needed help, so I hired an image consultant, who introduced me to the Style Solotions Program. I punched in my body's characteristics and a personalised shopping program popped up just for me. It was like having my own personal stylist. This program it is easy to use and has taken the stress out of shopping. I no longer make purchase mistakes that sit in my closet.
Thank you, Thank you, Thank you
Michele Fonso,
Thunder Bay, ON Canada

Try before you Buy
Download our FREE Sampler TODAY
PRESS HERE
My Personal Style Solutions has been created specifically for you and covers the following areas:
Figure Analysis - A figure assessment has been made according to our measurements and/or observations. This creates an accurate picture of your body shape which allows the program to generate a platform of information from which the design elements of garments and accessories can be assessed for you.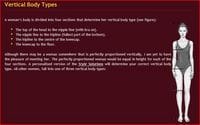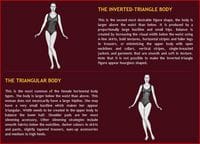 Style Selection - Based on your figure analysis your portfolio will give you comprehensive and specific style recommendations that will enhance every aspect of your physical appearance. Shopping and co-ordination will be made easier, your wardrobe will fill with things that make you look and feel great, and compliments begin will flow.
As with all our products we offer a 100% money back guarantee if you are not completely satisfied.
Our Promises to you, 'My Personal Style Solutions' program will:
• Empower you and raise your self-esteem.
• Increase your confidence as you'll learn exactly how to dress to impress.
• Stop you wasting money on clothes you hardly ever wear.
• Make shopping a breeze! You'll know exactly which styles to go for, and those to avoid.
• Help you to edit your wardrobe. (Which can earn you more cash, if you sell on all of the clothes you've weeded out!)
• Make your daily visit to your wardrobe one that's filled with joy and inspiration, instead of frustration.
• Make you look more stylish and attractive, leading to many more compliments!
Please note this is a sophisticated program and may take a moment or two to download. It's worth the wait.
See for yourself how detailed and easy to use our Style Solutions program is.
A personalised 'My Personal Style Solutions' Portfolio costs only $79
'My Personal Style Solutions' program is:
• Comprehensive: An 8 MB program, your eStyle Solutions Portfolio has over 660 full color fashion photos and covers 40 different style-related categories that, between them, address every item you place on your body from top to toe. This includes your best suited necklines to hemlines, lingerie to coats, swimwear to evening attire and eye-wear to shoes.
• Accurate: We guarantee you that your 'Personal eStyle Solutions' will provide you with the most accurate and up-to-date information available. The program is updated constantly and combines an in-depth figure analysis and style selecting algorithm, which means that your results are uniquely tailored to you.
• Up-to-date: Contains photos that reflect current styles.
• Unique and high quality: No image program comes close to this one in performance, quality and comprehensiveness.
• Simple to Use and Understand: We guarantee that there are no tricky concepts or difficult terminology involved!
• Personalized: 'My Personal Style Solutions' is made just for you. Everything that's unique about your body is taken into account, including your height, age, weight, your figure problem areas, 'vertical body type' (which is explained by illustrations within), 'horizontal body type' (which is also explained with illustrations), your scale, face shape, shoulders, neck length and more. All this information is then combined to give you a crystal clear picture of your style needs. The recommendations we give you are color-coded for when you need to review them at-a-glance.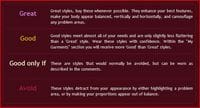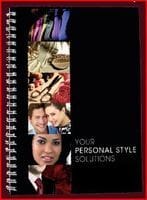 Complemented by a free printout of your style recommendations and our optional take-anywhere companion Shopping Style Guide.
Congratulations on having the courage to take the step to changing your looks and just maybe your life.
What other clients have to say about our Style Portfolio:
The theory component of my journey that you provided armed me with the right tools and decisions to be made when selecting styles of clothes and colours that enhance my eyes or hair colour.
Equipping me with the tools I need to make wise shopping choices that suit me and my new body shape without wasting time and money on clothing that I would have previously bought.
I was amazed at how good I felt trying on clothes, some even designer clothes that never fit me before and somehow looked really good on me. It was surprising that items of clothing that I would have never even looked at previously, looked incredible on. I just needed the eyes of a professional teaching me what to look for.
I caught up with family and friends after the shopping experience and they commented that I had changed in some way, that I was much happier and looked younger and refreshed. I had a personal parade with friends in my new clothes, they commented on how much slimmer I looked. It's amazing what miracles clothing can do for you when your wearing the right thing.
Thanks so much, you've put me back on my path. I've had a truly life changing experience.
Teresa