50 image essentials that every woman should know...

Get your free eBook by subscribing below...
This eBook is designed to take the stress out of looking chic, confident and beautiful. It covers a comprehensive range of image essentials including: What is Style, Self-created Confidence, Things that make you say Yuck, The Power of Colour, Buying a New Suit and much, much more.
To receive a free copy of this eBook, all you need to do is complete the subscription form below... valued at $27.00. Yours today for FREE!
But first, here's a preview of one of the image essential" contained within this eBook...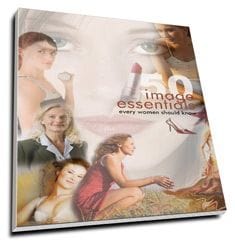 Clothing Clusters
Creating clothing clusters is a clever way and easy way to build a versatile wardrobe of clothes. Once you get the idea of how clusters work, you'll be able to plan your wardrobe around them and give yourself tons of options. Best of all, you'll no longer be tempted to waste money on impulse items that don't go with anything you own.
The first thing you need to do is remember when planning clothing capsules is that you CAN mix and match what you already have in your wardrobe. I find most women are not aware of all the possible mix and match combinations they have already own. Often, we get in such a rut that we forget that there's more than one way of doing things. So, start building your clothing clusters with items you already own. Before you dash to the shops it's important to find out what you have in order to decide what you need, and then prioritise your purchases as your budget allows.
Explore and note all the possible combinations you own. Try them on to make sure they really work.
What Is A Cluster?
A clothing cluster is a group of 5-12 pieces (jacket, skirt, slacks, etc.) that work in combination with each other.
Subscribe now and receive a copy of 50 Image Esssentials for Women for FREE...
Please note: We also invite you to subscribe to receive our other FREE eBooks and our regular Q-Style tips. To do this, please tick the boxes of the items you'd like to receive.
We respect your privacy:
We do not sell or rent our electronic mailing list to anyone at anytime for any reason. We hate spam as much as you do. You may remove yourself from the list anytime you choose with the unsubscribe link at the bottom of every ezine/eBook.